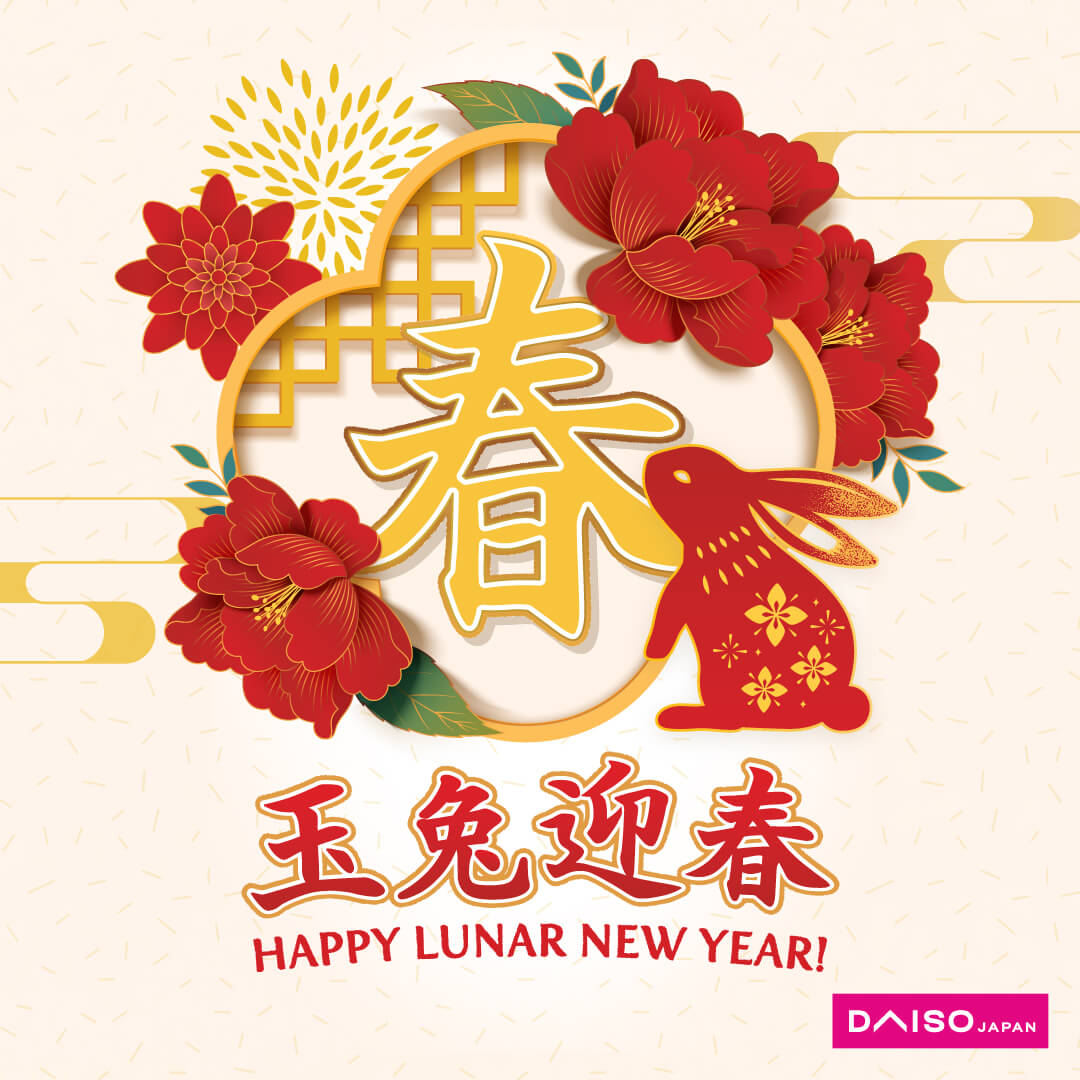 Celebrate Chinese New Year with Daiso! 

✨ 
Get everything you need for the festive at Daiso, from decorations, snacks and games!
1.  Wall Decorations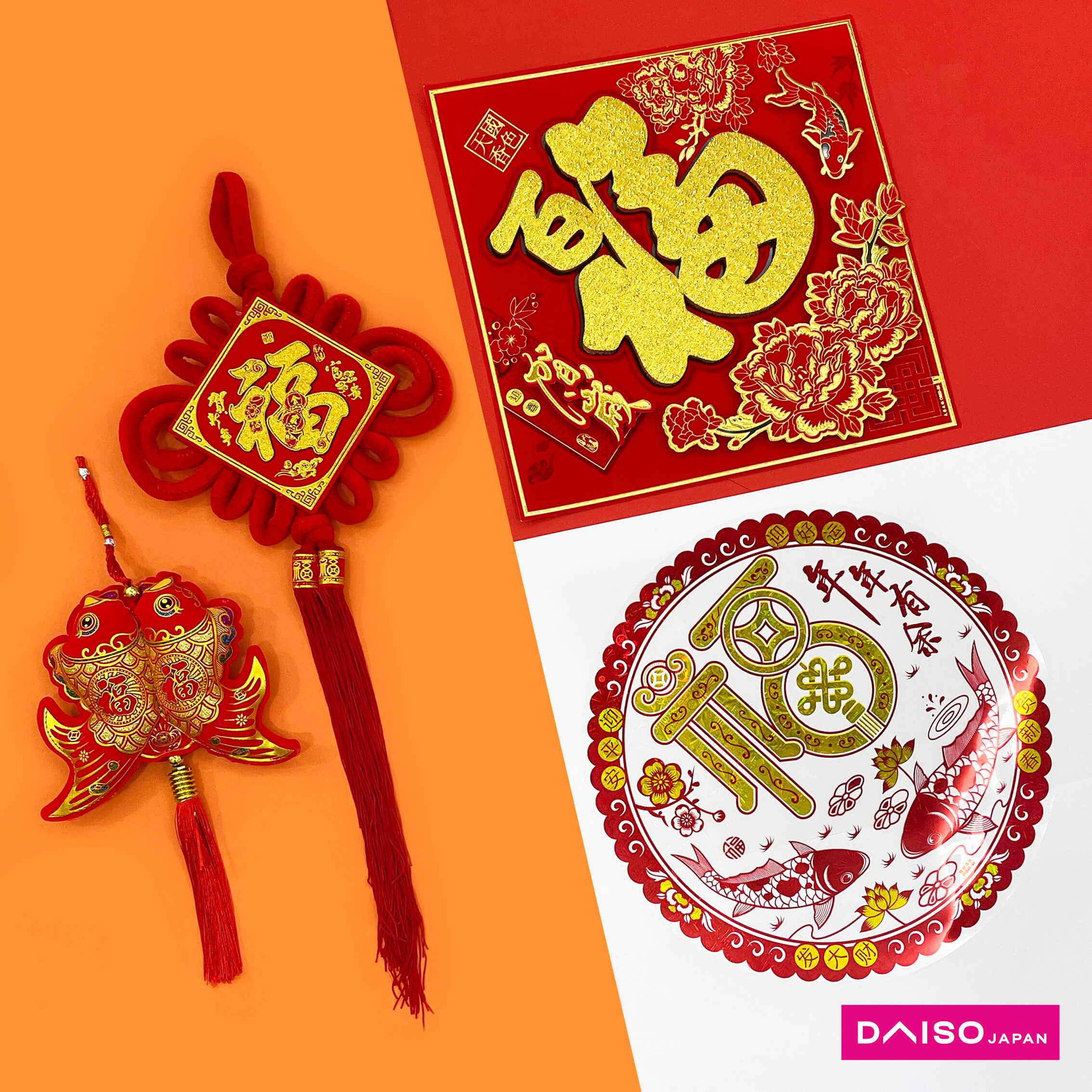 Welcome your guests with these beautiful wall decorations! Hang it up to add in that festive touch! Usher in the New Year with bright red decorations to bring joy and good fortune to your home! 🏮✨ 
Product Codes for Wall Decoration:
4979909968970 – Hanging Ornament 1 
4979909968994 – Hanging Ornament 3 
4979909968963 – Window Sticker 4 -1PC 
4979909968901 – Ornament with a Chinese character
2.  Zodiac Figurines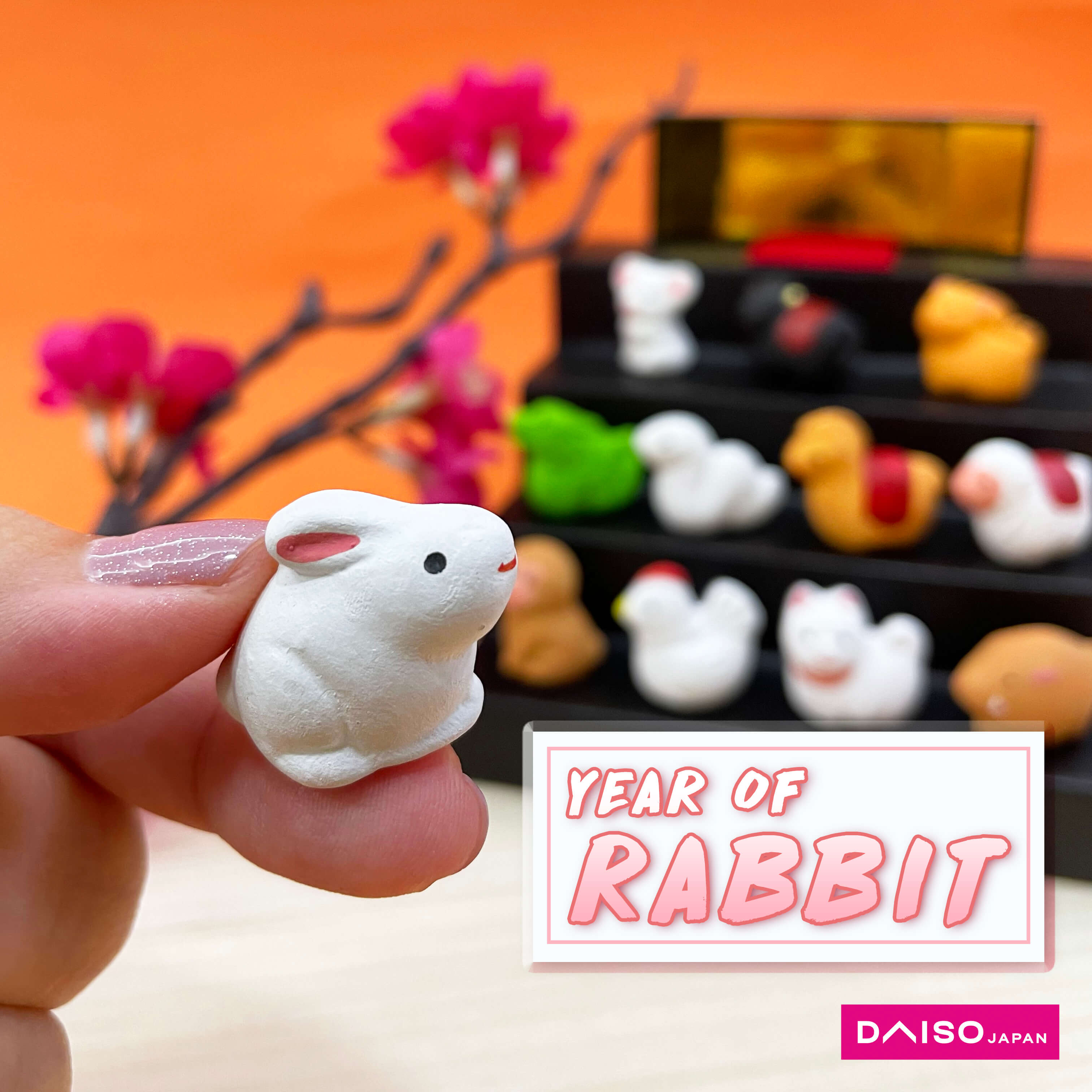 Get creative with these adorable Chinese zodiac year miniatures! Swap out each miniature with a new animal as the year changes! These mini zodiac sets are the cutest way to keep up with the changing years! 🐰
Product Codes for Zodiac Ornament:
4550480218083 – Chinese Zodiac Ornament 
4961823113109 – Early Spring Flower
3.  Basket with Mandarin Oranges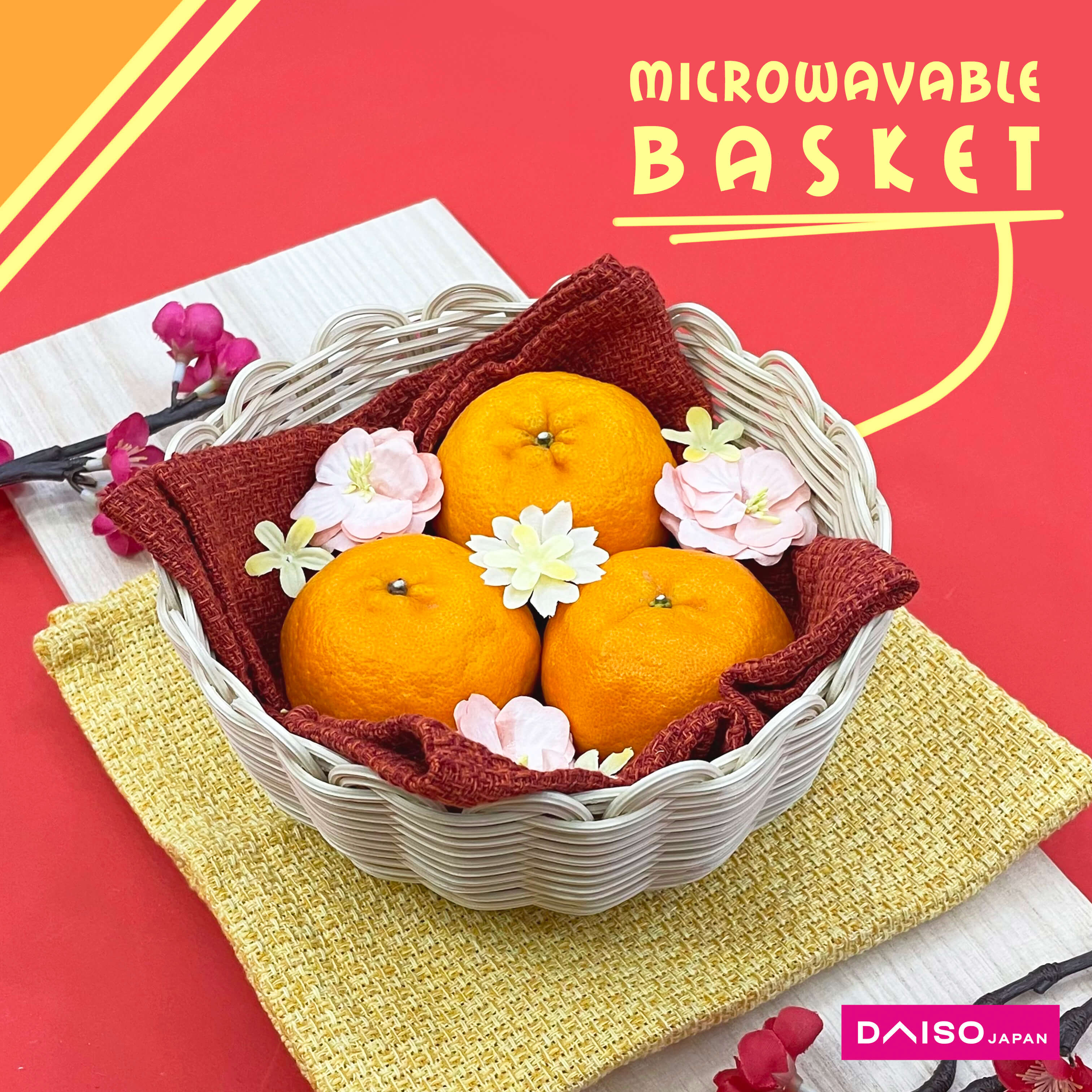 Our tableware and baskets can also make a beautiful centerpiece to any table with the right basket and decorations! Doesn't it look pretty? ✨
Product Codes for Basket with Mandarin Oranges:
4550480005065 – Microwave Safe PP Basket in Beige  
4997642173109 – Paper Flower
4560141085336 – Luncheon Mat 
4997642156379 – Plum Branch
4997642119145 – Flower Petal  
4.  Games and Snacks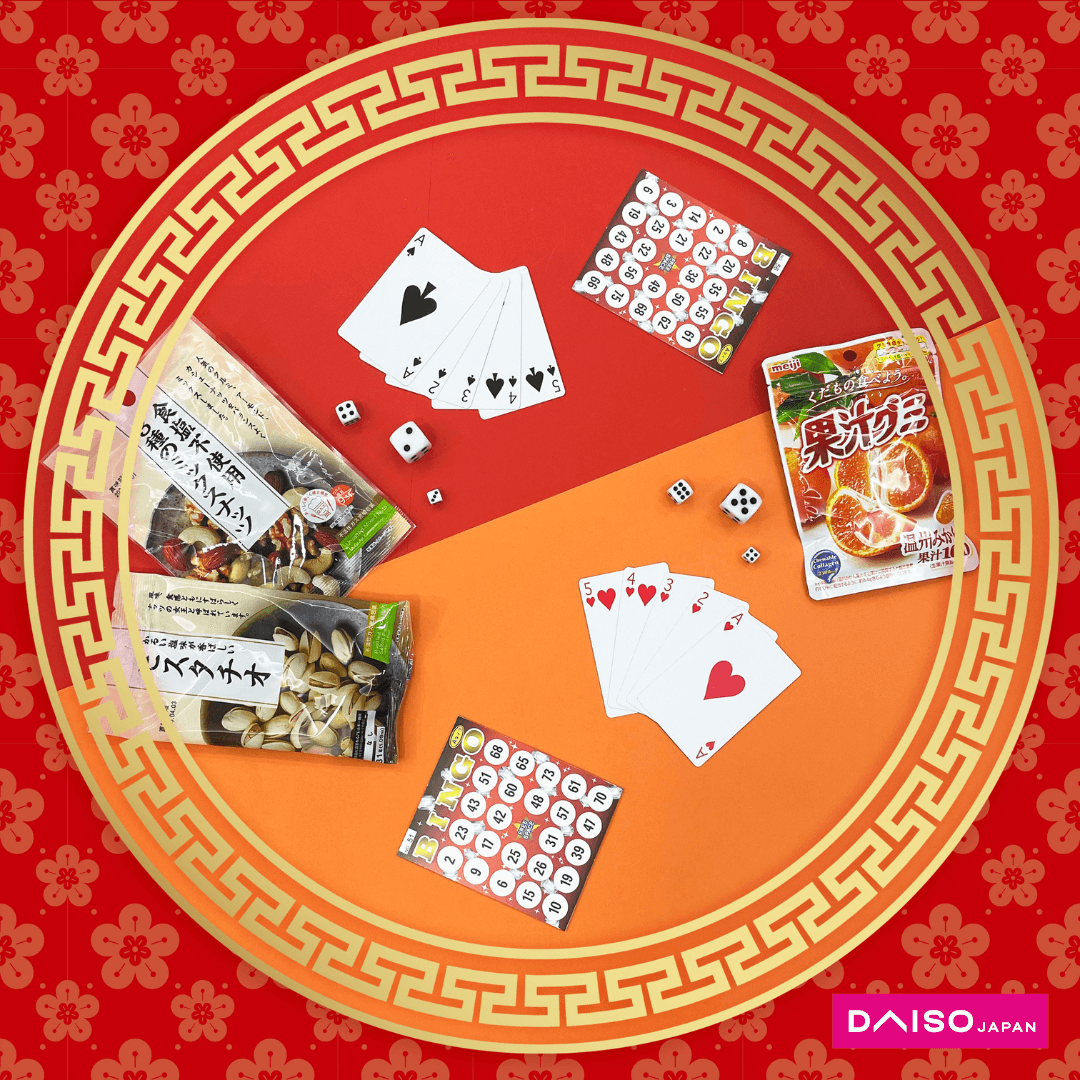 It's not every day we all get together like this – making it a must to enjoy the evening with some games and snacks available in Daiso! Try your luck in our BINGO cards or snake and ladder! 🎲
Product Codes for Games and Snacks:
4905656118542 – Magic King (Beginner) 
4549131776140 – Dice With Case (Basic) 
4964694338848 – Bingo Card

4904523228063 – Unsalted Mixed Nuts 
4904523227332 – Roasted and Light Salted Pistachios 
4902777079677 – Orange Gummy 
5.  Reunion Dinner
Daiso has a wide variety of tableware perfect for your festive celebrations. We've got plenty of cups, bowls and even rabbit melamine bowl series to get your home ready for all your guests! 🍚
Product Codes for Reunion Dinner:
4510683001462 – Rabbit Round Tray Red 
4510683001325 – Rabbit China Bowl Red 
4985094110834 – Green Tea Cup Rabbit – 8.2cmx5.7cm 
4549131773040 – Tea Cup Rabbit – 6.3cmx7.8Cm 
4531762923895 – Heat-Resistant Hexagon Chopsticks -Red – 2 Pairs 
4994163288961 – Straining Ladle 
4549131904796 – Platter Base 
4549892365294 – Aluminium Pot 
4550480127217 – Teapot
6.  Red Packets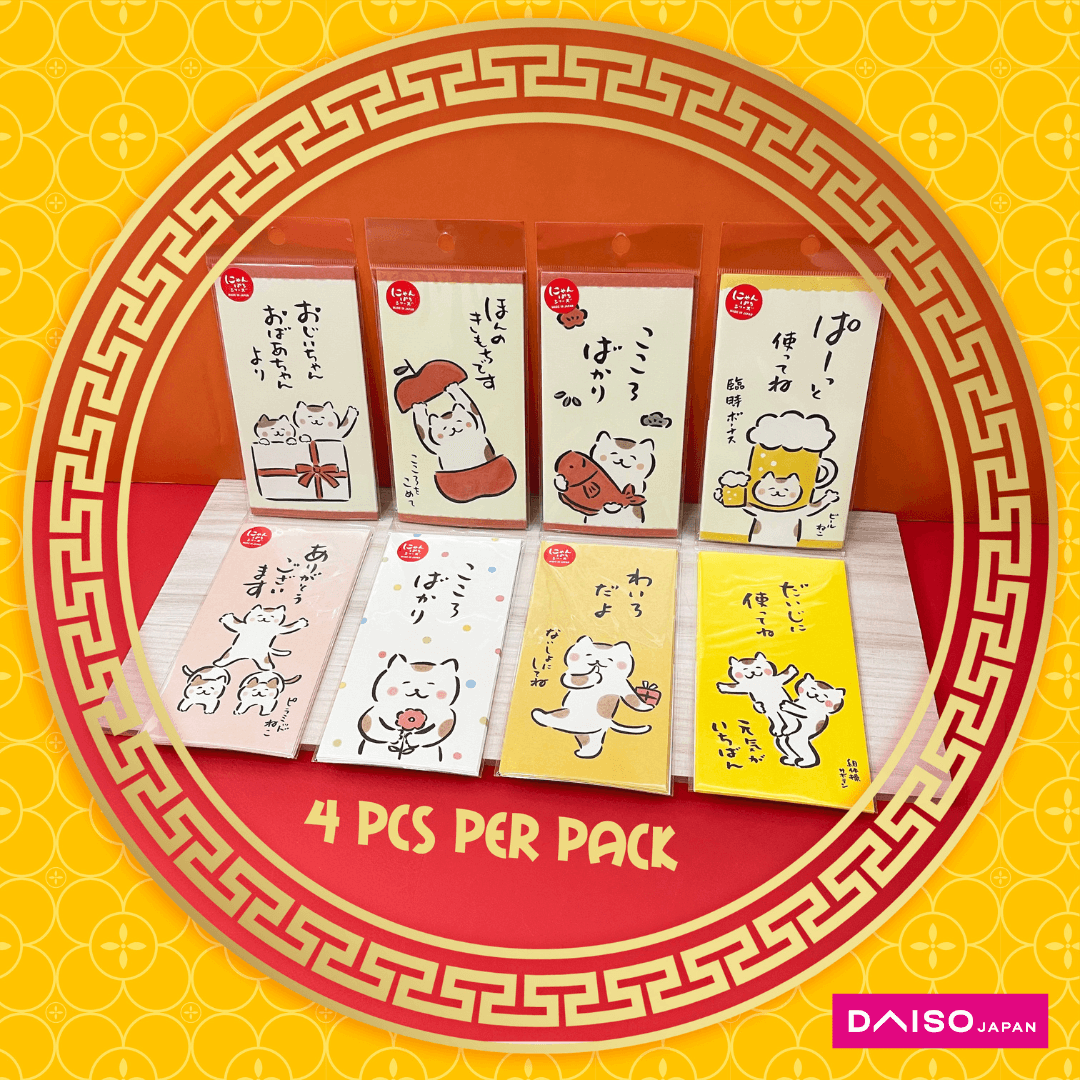 Sending 🧧 good luck and happiness this festive season! Pick up some beautiful red envelopes from Daiso. The perfect way to show your appreciation and send your warmest wishes!
Product Codes for Red Packets:
4550480182391 – Little Something, Polka dots 
4550480182414 – Spend Money Freely 
4550480182353 – Thank You
4550480081915 – Spend Your Money Wisely 
4550480182421 – Just A Little Something 
4550480182377 – Present from Grandpa and Grandma
4550480182384 – Little Something  
4550480182438 – Bribes 
Click to Shop Online – https://shop.daisosingapore.com.sg/collections/chinese-new-year