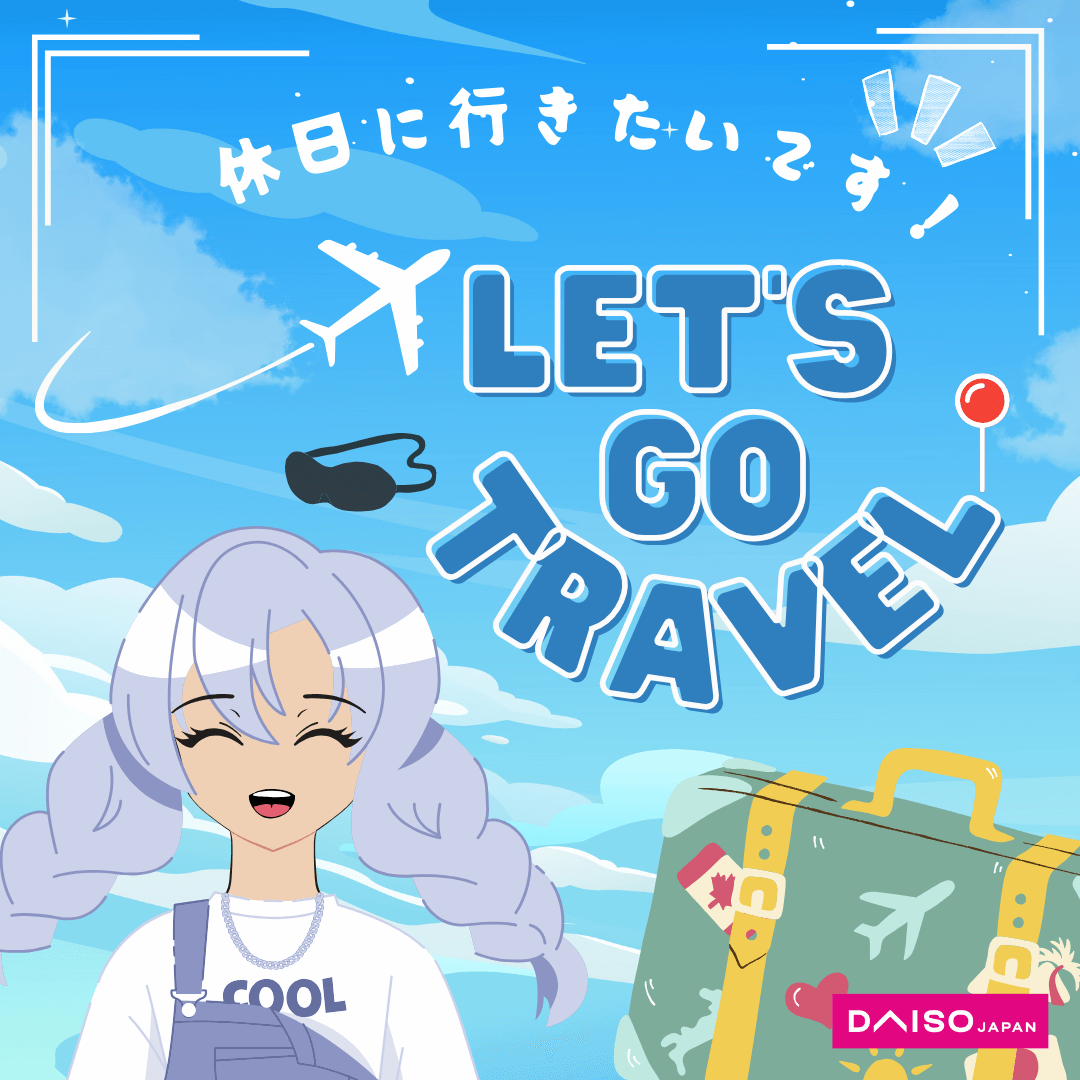 Who's ready for holiday? ME! 
Let's start packing for the long-awaited vacation! 
Check out our travel cases, empty bottles, vacuum bags 
and many more to make your trip a worthwhile experience! 
   1.    Make your luggage stand out! – Able to spot from far!
It's vacation season! Let's pack our bags and get ready for the holiday! Get our luggage belts in different kinds of colors and lengths that suit your luggage best! Luggage belts are used to identify and spot your luggage from afar and avoid any confusion with other passengers!
Product Code for 
Suitcase Belt 
4979909932148 – Suitcase Belt Easy-To-Attach-Striped B – 170cm
   2.    Small Travel Cases – Store these everyday-use essentials!  
Tired of misplacing your small items all the time? Worry no more! Travel with ease with our travel case containers!
A specific container for your small items. We have spray bottles, great for storing sanitizer and cream cases! 
Product Code for 
Essential Containers 
4965534143110 – Travel Case 
4965534143219 – Travel Case
   3.    Clear Zip Pouches – Easily pack and store necessities! 
Clear pouches work best during travel! It saves time searching for a specific product and helps maximize storage in your luggage.
Store all your daily necessities in these pouches!
Product Code for 
Pouches 
4549131950793 – Plastic Pouch – Rectangular Type –
   4.    Hard Case Pouch – With partition for organizing!
We have a hard case pouch with partitions available! Able to store your cards, specs, wires, makeup, and many more! This allows you to be more organized with your items. With the hard material, your items are more protected and are not easily damaged during travel.
Product Code for 
Hard Cases 
4550480147901 – Hard Pouch – Silver Color – 
4550480164892 – Hard Pouch – Dark Color –
   5.    Cute Ear Warmer – Match with any type of winter outfits! 
It's the winter season! You have to keep yourself covered at all times! Our ear warmer will keep you warm and cozy throughout your trip!
Not only is it adorable, but it also serves the functionality of keeping your ears safe and warm! 
Product Code for 
Ear Warmer 
4550480187655 – Ear Warmer – Fluffy – Plain –
   6.    Cozy Lap Blanket – Comfortable journey to your destination!
Bring along a lap blanket for your journey! Have a good rest while reaching to your destination! Our blankets are soft and comfortable to touch! We're hoping it'll be a cozy journey for you with our lap blankets!
Product Code for 
Blanket | Lap Blanket 
4550480173160 – Lap Blanket – Star – 60cm x 80cm