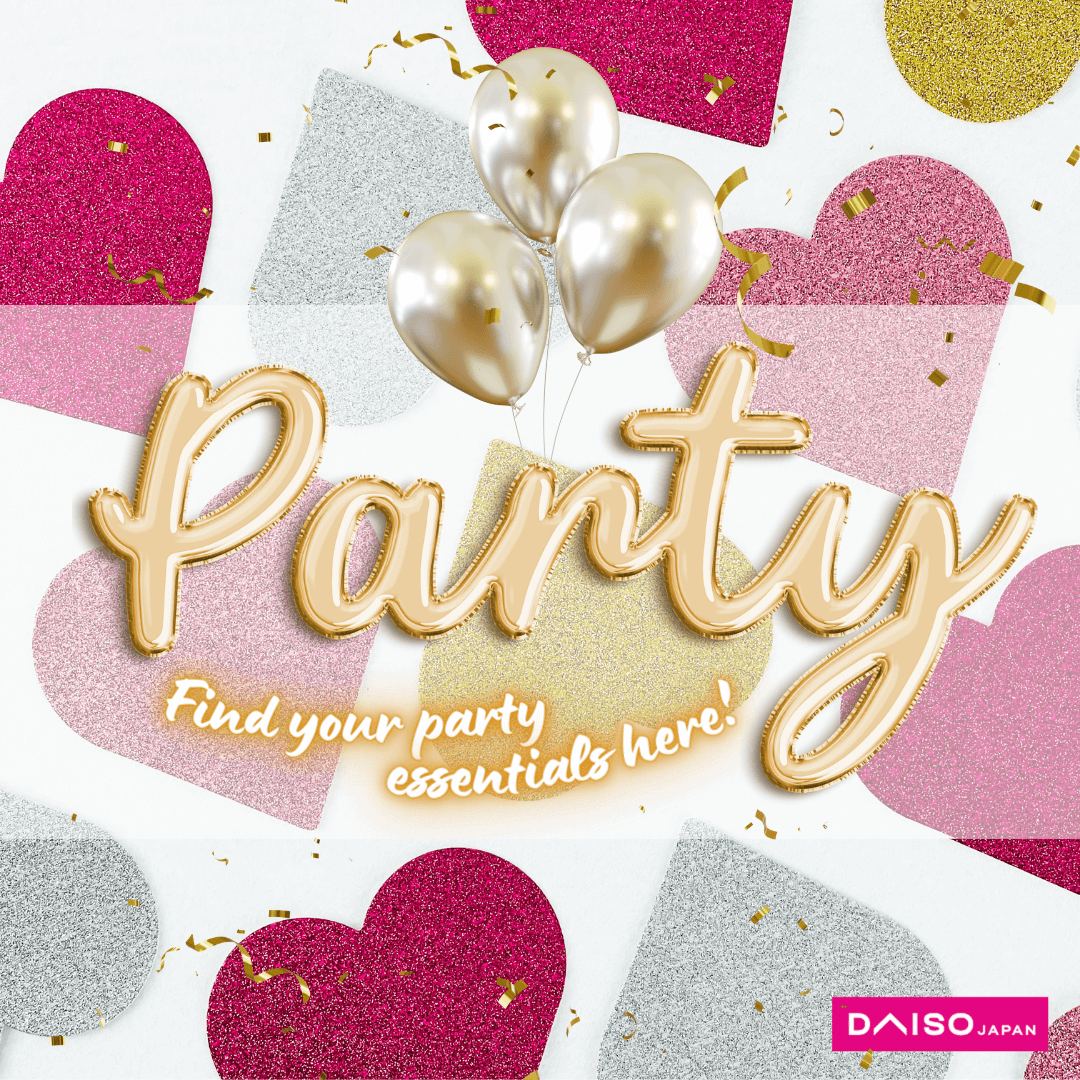 Let's Party Together With Daiso! 
We have plenty of party needs here! From decorations 
to tableware and more! Find the suitable decoration that 
will suit your party theme now! 
   1.    Cracker POP! – What's a party without a party popper! 
What's a party without a fun POP to it! Get an awesome closure of the party with party crackers you can find in Daiso!
Product Code for 
Cracker 
4550480234779 – Cracker -A- 
4550480234762 – Cracker -B-
   2.    Glitter Decoration Shapes – Simply paste it all over the room!
Glitter decoration all over the walls? YES, please! Simple decorations that will liven up the vibe of the party!
Simply paste it anywhere you want it! Hearts and stars shaped available!
Product Code for 
Glitter Decoration 
4550480214344 – Glitter Heart Decoration Pink – 12pcs
4550480214337 – Glitter Heart Decoration – Gold and Silver – 12pcs
4997642135916 – Glitter Star Decoraion – Silver – 12 pcs
   3.    Pastel Balloon with Pump – An essential need for party! 
Balloons are a necessity for any party occasion where you can find a range of it from Daiso!
Pastel colours, pearl, bright, design and many more! We also have the balloon pump as well making preparation a breeze for you.
Product Code for 
Balloons 
4940921837162 – Air Pump – with 2 needle types 
4549892412387 – Pastel Balloon – 9inch – 20pcs
   4.    4 Mini Film Balloons – A value pack balloon deal! 
Get these value mini film balloon pack! Stars and hearts design! Straw provided in pack!
Insert the straw in the balloon and blow and you'll get yourself a cute decoration for the party!
Product Code for  
Film Balloon 
4550480030449 – 4 mini star balloons 
4550480030432 – 4 mini heart balloons
   5.    Ring Garland – Japanese traditional deco! 
More hanging decorations? We have it! Look no more other than these Japanese traditional ring garlands!
Double sided design so you can never go wrong! Suitable for any types of events!
Product Code for 
Ring Garland 
4997642153514 – Ring Garland Basic (90 sheets)
   6.    Party Tableware – Cute design for cup and paper plates!
Get your party tablewares no where other than Daiso where we have plenty of cute designs and colours
to match with your theme party! Paper plates, cups, utensils and more!
Product Code for 
Party Tableware's 
4549131302806 – Paper Plates with Polka Dots – 8.8in – 10 Pieces
4549131302813 – Paper Plates with Stripes – 7.09in – 12 Pieces
4549131302820 – Paper Plates with Polka Dots – 7.09in – 12 Pieces