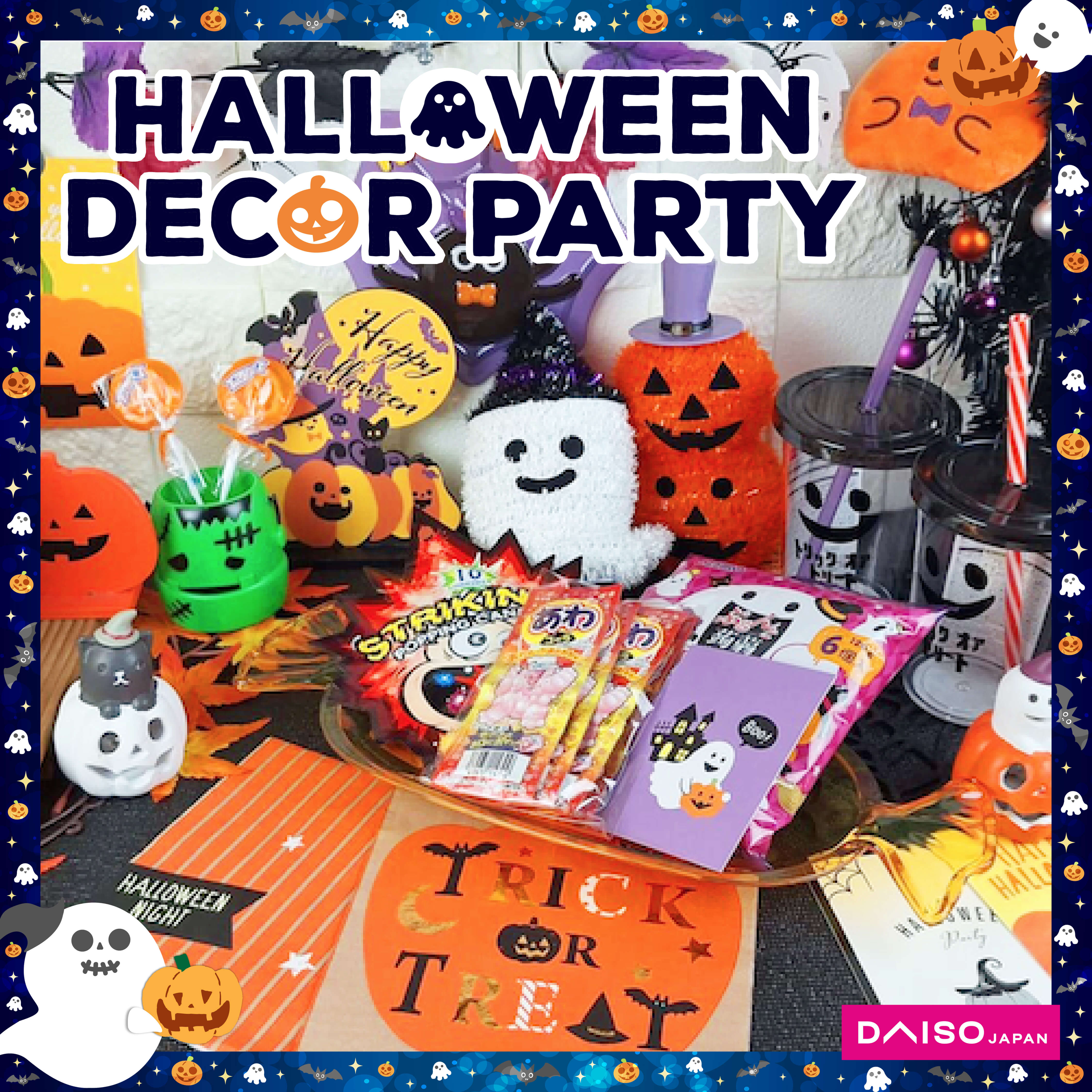 Get your LAST MINUTE Halloween 
needs online now! 🖥️🎃
Find spooky masks, props, decorations and many more! Hurry and shop for your Halloween needs today!
   1.    Halloween Popping Eyes – That's some scary looking face!
Get our scary popping eye masks for all the spooks and fun this Halloween! Vampires, zombies, skeletons,
Frankenstein, and many more to choose from! The mask is enough to scare people! Let the scare begin! 🧟⚡
   2.    Halloween Ornament – The perfect scary decoration! 
A perfect decoration piece or a 'friend' for you during your trick or treating!
Create a scary atmosphere with these decorations! Time for the witch to fly off with her broom! WOoosh ~ 🧙🏼🌃
   3.    The Deadly Look – Match our masks with props!
Going for the deadly look costumes? There are lots of props you can find in Daiso to match with your Halloween outfits!
The Devil's knife, chainsaw, and hammer! Plan your #OOTD for the night now! ☠️🔨
   4.    Devil Costume – The little devil costume!
We have the perfect little Devil costume set! Our Devil's overall costume includes the headband, tail, and pitchfork!
Each sold separately! Time to scare everyone with these devil outfit! 😈🔥
   5.    The Witches Hats – Many more designs to choose from! 
Let's all be witches on Halloween! Grab our cute Halloween hats with various designs such as webs, cats, spiders, and many more! 🧙
Our hats range from adults to kids! You can never go wrong with a simple witch hat on Halloween as a costume! 🔮
   6.    Halloween Lanterns – Bubbly and cute looking lanterns!
How adorable are these Halloween lanterns~ Stretch them up and hang them on your doorway!
Insert the battery and see it light up at night! Pumpkin and ghost designs are available! 🎃👻
   7.    Trick or Treat Buckets! – Store all the candies here! 
Going for a trick or treat? Grab these pumpkin baskets to store those sweet candies in them, or use them as a decoration piece too!
It comes in 2 colors: black and orange! Suitable for kids! 👦🏽👧🏻🌙
   8.    Halloween Wand – Complete every look with these! 
A Halloween wand to complete every look! So cute that it's almost suitable to pair it with any costume you will be wearing on your Halloween night!
You can choose from a variety of designs for your wand! 🐈‍⬛👻🎃
   9.    Halloween Cushion Ornament – A simple decoration piece! 
Simply hang these ornaments around the house or offices to add to your Halloween decorations! Or create your own little "Hollow-een" tree
and decorate your own piece today with our ornaments! 💀🐦‍⬛